Chief Purser Carl-Gustav Kruse
These pictures of life on board MS Gripsholm and MS Kungsholm
are contributed by Carl-Gustav Kruse's son Magnus Kruse.
Click on the pictures to enlarge
Please email us if you can identify persons whose names aren't noted below the pictures. If you recognize yourself or a relative, and in any way are offended by the picture being published, please send an email and the picture will be removed.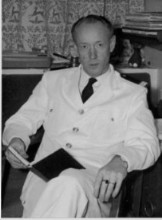 Chief Purser Carl-Gustav Kruse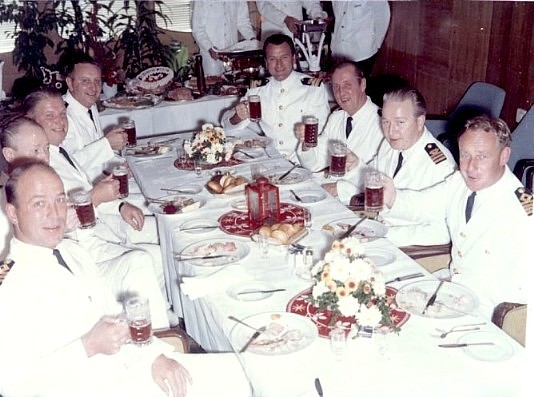 Christmas Eve 1969
Seated at the table, clockwise, from front:
Chief Officer Rolf Nordell, Information Officer Carl-Gustav Kruse
Chief Engineer Åke Svensson, First Radio Operator Stig Andersson
Captain Hasse Nilssson, First Engineer Alf Grönstedt
Chef de cuisine Rune Forsberg, Chief purser Curt Dawe
Bengt Kallum was ashore

The Captain's Christmas Luncheon for his officers in 1970
on board the Gripsholm, somewhere in the Caribbean.
Former Chief Purser Evert G Eriksson and his wife
were passengers on this cruise.
Seated at the table, clockwise, from front:
Ship's Doctor Johannes Spotoft, Chief Officer Kjell Smitterberg
Evert G Eriksson (a.k.a. the Singing Purser),
Chief Enginer Åke Svensson,
Information Officer Carl-Gustav Kruse, Chef de cuisine Stig L Oscarsson,
Chief Purser Poul V. Lange, Mrs Eriksson - Ulla Gyllenstierna,
Captain Lars-Erik Granqvist, First Engineer Göte Hellberg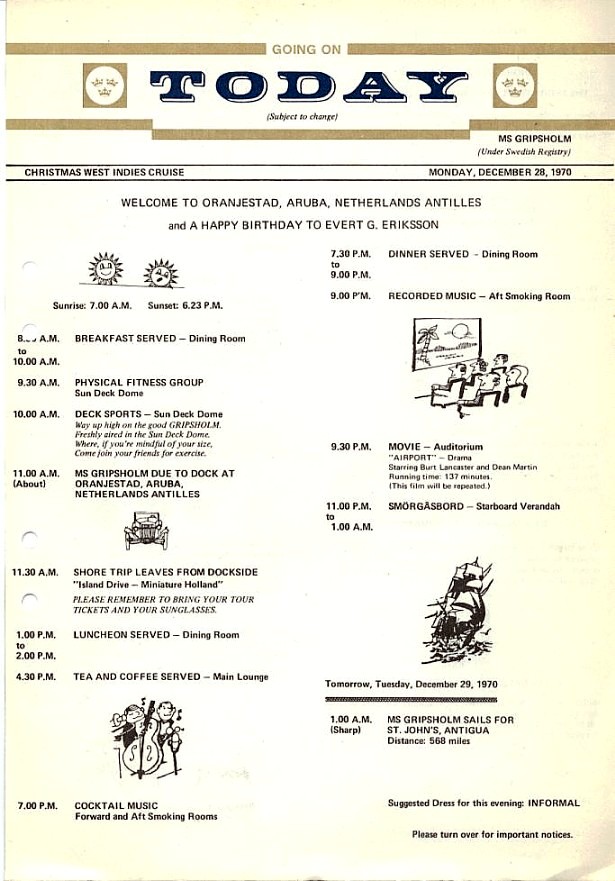 Going on Today
The Gripsholm's daily program sheet for the
Christmas West Indies Cruise, Dec 28, 1970
with a note of congratulation on
Evert G. Eriksson's birthday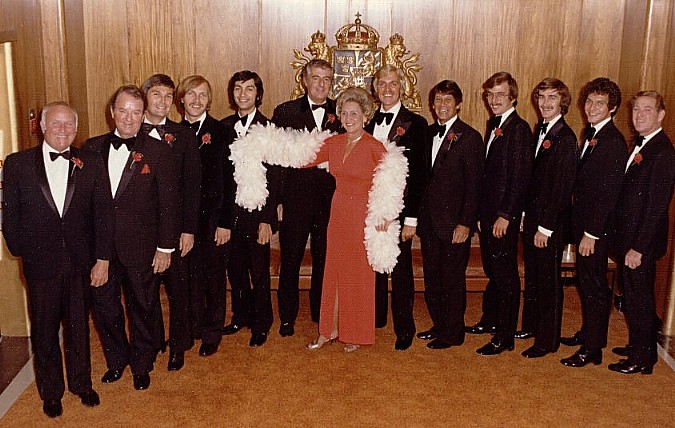 The Cruise Staff, dressed to entertain.
Bill Klingener, Shore Trip Staff member, has contributed the following information, from left to right:
Fred Fields, Ralph Magelsen, Ron Anderson, Bill Klingener, Phillip Panettiere, Herb Colcard Cruise Manager,
Jean Kerr Social Directress, Gordon Meyers, Ralph Alfaro "Cookie" Shore Trip Manager, Alfred Gilbert,
William Knowlton, Philip Hanie, and David Croft – Bridge Instructor.
Gripsholm in Geiranger Fjord,
Scandinavia-Western Europe Cruise 1974
Icebergs sighted on route
Le Havre - New York
Passengers' birthday parties
Gripsholm South Seas Cruise 1973
C.G. Kruse and Captain Lars-Erik Granqvist
with passengers
Buccaneers aboard!
| | |
| --- | --- |
| | |
| Mad Hatter's Party | |
Crossing the Equator Ceremony in the Pacific.
Kungsholm World Cruise 1974
C.G. Kruse and Captain
with passengers
Kungsholm
World Cruise 1974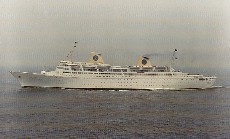 MS Kungsholm after having been sold in 1975.
The funnels have the new owner's symbol,
but the name Kungsholm is still on her stern.
C.G. Kruse has made a notation that exhaust fumes
are causing soot damage to the aft funnel.
---
More than 250 web pages developed and maintained by Lars Hemingstam ©1998-2023
Hasse Gustafsson and Tommy Stark have interviewed crew members and contributed many of the stories.

Email us
This site does not use cookies, nor do we save visitors' IP-addresses. We do not send information to any third party. If you find information or a photo about yourself, or a relative, and want do delete it, please email salship@yahoo.com, and the information or photo will be removed. (The General Data Protection Regulation (GDPR) does not apply to deceased persons.)
Denna webbsajt andvänder inte cookies, vi sparar inte heller besökarnas IP-adresser. Vi skickar ingen information till tredje part. Om du finner information eller ett foto om dig, eller en släkting, och vill ta bort det, skriv till salship@yahoo.com så tar vi bort informationen eller fotografiet. (EU-regeln GDPR omfattar inte avlidna personer.)
---
The New SAL Guestbook
Since the new guestbook can take some time loading, it has been moved to a separate page, and is not being displayed at the bottom of every page.
---