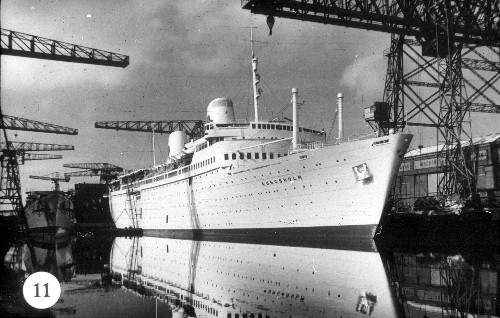 Kungsholm at the Fitting Dock
A nearly completed ship at the fitting dock.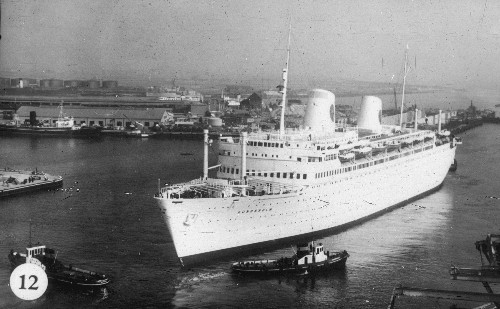 Ready for a Trial Run
After many months of work comes the day when the ship can be towed from the dock for a trial sailing. During the trial run, the ship's performance at sea is measured carefully. The results are used for adjusting the ship's engines and instruments.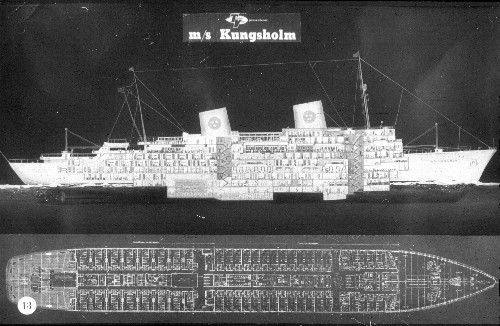 A City Afloat
The 22,000 ton Kungsholm is shown cut-through from bow to stern. The figures are impressive. Length: 183 meters, width: 23,5 m., from mast to keel: 60 m. There is an electric power plant, generating 3,300 Kw for motors and 11,500 lightbulbs. The total length of the electric wiring equals the distance from Stockholm to Göteborg. A water purification plant transforms sea water into drinking water. There are 80 bath rooms, 270 showers, 640 wash basins, and 370 toilets on board. There are cabins on seven decks. In the floating city, there are also shops, a movie theatre, an exchange office, a printer's shop, a tailor's shop, a beauty parlor, a gym, a sauna, an indoor pool, a hopital with an operating room, and a dentist's office.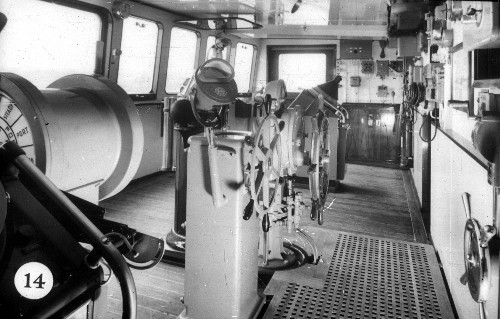 The Bridge is the Ship's Brain
The Kungsholm's bridge is fitted with the most modern navigational equipment, such as radar, a gyro compass and a gyro pilot. To reduce the risk of a fire incident turning into a catastrophy, there is an automatic sprinkler system, as well as a hydaulic system, which can close a hundred fireproof doors throughout the ship. There is also a similar system of watertight doors.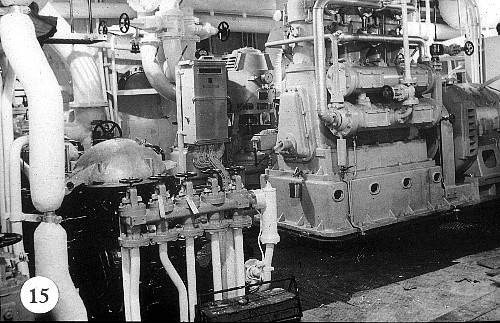 The Engine Room is the Ship's Heart
This photo shows an air compressor and an oil separator. The cooling system for food and cargo could produce 650,000 kilograms of ice per day.